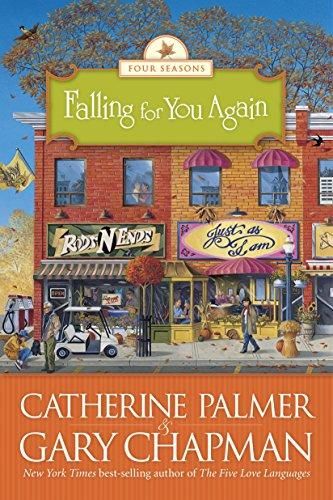 Falling for You Again
Fiction Story Based on Non-Fiction Book: The 4 Seasons of Marriage
Dr. Gary Chapman and Catherine Palmer
Summary
THIRD INSTALLMENT IN THE FICTION SERIES: FOUR SEASONS
Charlie and Esther Moore have been married nearly fifty years when the contented life they've built together begins to crumble. Esther has been forgetful recently, but it's rarely a problem until the day she puts her car in drive instead of reverse, flying off the end of the carport and into the backyard. Esther's accident and declining health shatter their reverie, and the couple must come to terms with all the paths their lives have not taken if they ever hope to pull their marriage out of winter. As always, the quirky characters of Deepwater Cove will pop in and out of the story and delight readers.
This is the third book in a new fiction series from best-selling authors Gary Chapman and Catherine Palmer, based on the marriage principles found in Gary Chapman's nonfiction book The 4 Seasons of Marriage. Each book includes a study guide that talks about the four seasons of marriage and the healing strategies depicted in that particular storyline.
Customer Reviews
This book touched my soul. I felt every bit of joy and pain.
Sherry Heard
Another excellent book in this series!! Gary Chapman & Catherine Palmer do an excellent job of giving you an excellent story with helpful hints on things to do in your marriage as well.
Mark
This is a book that would be wonderful to read while curled up under a blanket with a hot drink. It is that type of feeling you will have while traveling to Tranquility.
Lori