Summary
Experience a virtual live marriage conference with The Marriage You've Always Wanted from New York Times bestselling author Dr. Gary Chapman. This is Dr. Chapman's popular conference, recorded in full HD in front of a sold-out audience from Wheaton Bible Church in suburban Chicago, Illinois. The multi-DVD set features five sections of content, as Dr. Chapman walks viewers through steps toward achieving the marriage they've always wanted using humor and over four decades of experience as a marriage therapist.
The sections include
Communication 101

Understanding and Expressing Love

Initiating Positive Change

Making Sex a Mutual Joy

How to Share the Things That Bug You
In the Event Experience of The Marriage You've Always Wanted, you'll find all you need to host a virtual marriage conference for as many as several thousand attendees. In addition to six plus hours of teaching from Dr. Chapman on DVD, the included resource disc includes sermon notes, group study guides and templates for posters, bulletin inserts, postcards, online banner ads and more. Also included is one sample copy of the The Marriage You've Always Wanted Event Experience Participant Guide that couples will use to follow along with the content and take home for practice.
Customer Reviews
I have really enjoyed the book and DVD on the marriage you've always wanted. I've learned so much from Dr. Chapman. I am in deep gratitude for the knowledge imparted to me. I highly recommend these books for the Christian who wants to learn more about how to build a happy marriage.
Chris Russi
Dr. Chapman advise is practical and he is funny and pleasant. My fiance and I had a great time learning about relationships and ourselves.
Vivian Dugger
Excellent information!
Anthony Ptaszynski
The Marriage You've Always Wanted Event Experience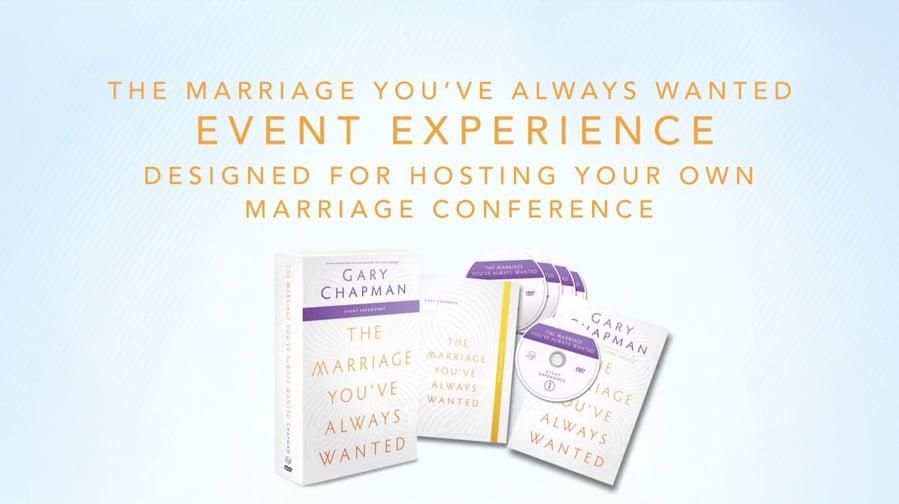 Play